Benajmin Romeo Classic
This is a wine that you shouldn't miss.  White Rioja has been getting a ton of attention lately – and the best ones are flying off the shelves.  Scores are going through the roof as critics are discovering just how sublime these whites can be.  The Wine Advocate gave a perfect 100pt score to a Gran Reserva White Rioja (it sold for $500!)
This 2015 from Benjamin Romeo was released at an odd time and didn't get reviewed, but the 2014 and 2016 both got big press (93 and 95pts from the Wine Advocate).  This is a HUGE Burgundian styled white that needs to be tasted!  Could it be the next Montrachet?  Maybe!
Bodega Contador began in 1995 when Benjamin Romeo, winemaker and grower, acquired a centuries-old cave carved into the rock beneath the Castle of San Vicente de la Sonsierra, located at the foot of the Sierra Cantabria mountain range in La Rioja Alta, west of Rioja Álava.  Benjamin was the winemaker at Aratadi from 1985 to 2000, where he was able to apply his skill and continue to hone his craft. In 1999, he made the first vintage of "Contador" from vineyards he acquired.
In 2000, after seeing these first wines favorably received by the market and press, Benjamin dedicated himself full time to his personal project. Robert Parker's Wine Advocate awarded 100 points to the 2004 and 2005 vintages of Contador
Benjamin oversees every aspect from vine to wine, including traveling to France to select the best oak trees for barrels and choosing the best-quality Spanish corks from high altitude mountain regions in Castellon, Toledo, and Gerona. As the son, grandson and great-grandson of winemakers, Benjamin uses rigorous attention to detail to produce wines of great and noble character.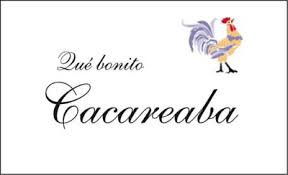 2015 Benjamin Romeo
Que Bonita Cacareaba Blanc
reg $69.99 / $54.99 SALE
The wine's playful name comes from a combination of an homage to one of Benjamin Romeo's family names. It translates directly to "rooster" in Spanish, as well as the cocky assurance that tasting this wine will elicit the reaction similar to a raucous cry of a bird, aka, a "cockadoodledoo"—or in Spanish, "cacereaba."
This wine is composed of 50 percent Garnacha Blanca, 35 percent Malvasía, 15 percent Viura sourced from head-trained vines gown in a mix of alluvial and calcareous soil from the municipalities of San Vicente de la Sonsierra and Briones with Rioja Alta. The three different grape varieties, harvested at different dates according to ripeness, come from the following six plots: Leza, Ariasabal, Murmurón, El Sauco, El Bombón y Las and Tasugueras. The bunches are whole-cluster fermented, cold-soaked for over forty-eight hours, and then the free juice runs into 225 L New French oak barrels for fermentation before eight months of lees aging and battonage. The wine is fined, but not filtered.
The blend of these three grape varieties create heady aromas of cinnamon and spice, orange marmalade and toasted sesame seeds. What you smell in the nose is similar to what you taste while adding dried pineapple, poached pear and almond biscotti. There is a concentration and weight to this wine as it permeates your palate that demands another sip with food.